Taking care of your church through regular cleaning and maintenance provides a safe, healthy and beautiful space for worship, attracting first-time visitors and long-time members.
From essential day to day cleaning to professional maintenance, check out our complete guide to caring for your parish.
Regular Cleaning Tasks
Create a comprehensive list of ongoing tasks to help ensure upkeep is not forgotten. Here are some regular cleaning tasks to consider scheduling:
Empty trash
Replace restroom products
Vacuum
Sweep and mop
Dust surface areas
Organize hymnals and Bibles
Sanitize nursery toys
Wipe down blinds
Check light bulbs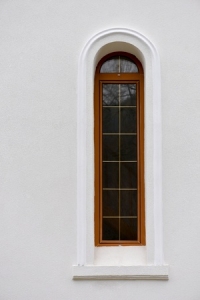 Windows
Clean windows and walls without a ladder to prevent injury. When a ladder is involved, leave it to a professional to get the high up stained glass windows and cobwebs. Be sure to thoroughly dust window sills and baseboards to completely remove dirt and bug-debris. Blinds can easily be forgotten so check them regularly for dirt build up.
Sanitizing
Think of all the places people touch. Touch points will spread sickness quickly throughout your congregation so it is important to clean them thoroughly clean with sanitizing solution. For instance, holy water is touched by many people. Replace the holy water often so it's clear, inviting and safe for all. More obvious touch points include the following:
Outside handrails
Door handles
Light switches
Pews
Statues
Confessionals
Banisters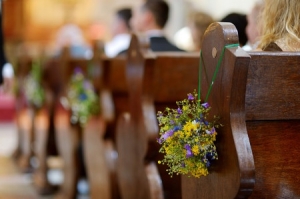 Detailing
Detailing is required in certain heavily used areas. Kitchens are often used by numerous individuals and groups. Despite good intentions, kitchen counters, cabinets and appliances will get dirty and cluttered. When cleaning kitchens and other heavily used spaces use a combination of terry cloths and microfiber rags. Clean from top to bottom, starting with cabinets. Use your fingers to detail knobs, grooves in cabinets, small appliances, nooks and crannies. These small details not only sanitize the space, making food preparation safe, but also make all the difference in aesthetic appeal. Specialty products to keep on hand include:
Stainless steel cleaner
Stove top cleaner
Wood cleaner
Organizing cabinets, cupboards, supply closets, and clearing counter space is a preventative measure that goes a long way to minimize clean up.
Floor Maintenance
The Church is a hub for community activities from scout meetings to soup nights. It is important to keep floors in good condition to prolong the life of the floor. Invest in a powerful vacuum that will reach floor edges and effectively pick up dirt. Vacuuming is more effective than sweeping and doesn't kick up dust. After vacuuming wood floors (your vacuum may have a setting for floors) mop for a deep clean. Be sure to use a gentle cleaning solution for regular floor cleaning to prevent chemical buildup.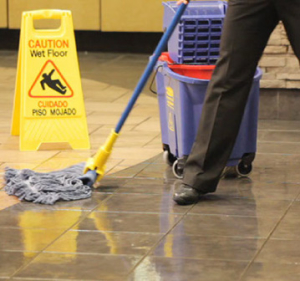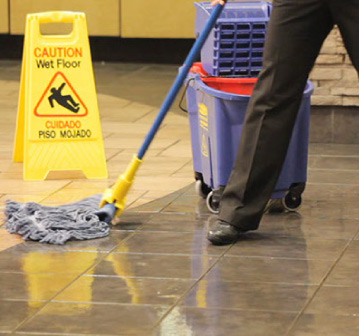 Professional Maintenance
Some general maintenance and repairs should be left to professionals. If you do not currently outsource your cleaning, consider having a company come in for routine maintenance. They have specialized knowledge and equipment for proper floor-care, like grout cleaning, carpet cleaning and wood floor waxing as well as for window washing, cleaning high beams, ceiling fans, crosses, statues and fixtures. First Choice Cleaning Services provides professional church cleaning services in the Delaware area.