As business owners or office managers, you have a vast number of responsibilities throughout any given day.
Keeping a business operating efficiently by managing employees, reviewing financials and providing quality customer service are all top priorities, as they should be.
When it comes to the experience workers and customers have within the walls of your office or retail space, however, outsourcing to a quality cleaning company often proves to be a beneficial investment. Commercial cleaning companies offer a wide variety of benefits to businesses of all sizes and in all industries, including increased productivity, enhanced customer experience and worry-free operations.
Increased Productivity:
One of the most prevalent benefits associated with hiring a commercial cleaning company to fulfill your company's cleaning needs is the direct impact it has on employee productivity. Workers who feel comfortable, safe and healthy coming in to the office each day have a higher propensity to do the jobs or tasks they are assigned, and do them well.
Having a clean office space or facility is a simple way to achieve this end. A quality commercial cleaning company provides expert services that keep your business looking its best by consistently removing trash, dust and debris that accumulates throughout the day or week, as well as the germs that come with each.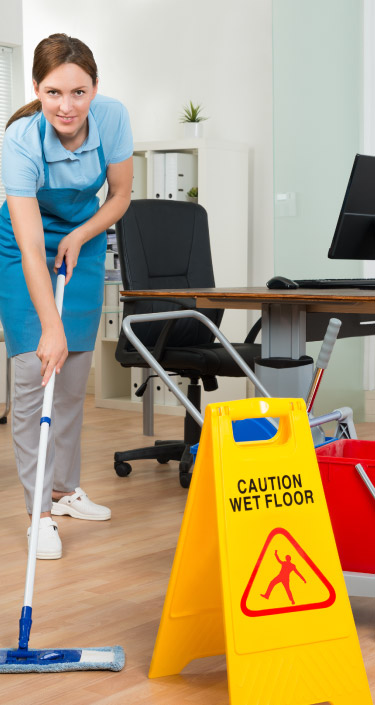 Better Customer Experience
Current and prospective customers should feel comfortable stepping foot into your business each and every time they visit. Lobbies, entryways, conference rooms and restrooms should all have an inviting feel that makes your customers want to frequent your location. Hiring a commercial cleaner is a simple way to ensure your customers feel as though they are doing business with a company focused on customer service and professionalism. Regularly scheduled office cleaning, floor polishing, trash removal and sanitization go a long way in providing a perfect first – and second – impression.
Worry-free Operations
Investing in a commercial office cleaner with a long-standing reputation and highly trained staff allows you as the business owner or manager the ability to focus on what you do best. Instead of worrying about which employee will be responsible for cleaning up the reception area, breakroom or restroom, you can be confident that the task will be done, and done well when you hire a commercial cleaning company.
At Maid Perfect, we offer a wide range of commercial cleaning services, including day porter services, floor cleaning and polishing as well as general office cleaning and sanitation. We take pride in our work, and strive to create a cleaning plan that suits your specific business needs. To find out more information about the services we offer, contact us today for a free consultation.